20 Big Trucks in the Middle of Christmas by Mark Lee, illustrated by Kurt Cyrus
Published by Candlewick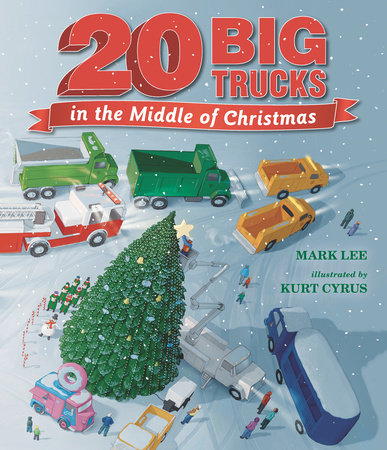 The Little Owl & the Big Tree: A Christmas Story by Jonah Winter, illustrated by Jeannette Winter
Published by Beach Lane Books
Summary: Santa and interlibrary loan brought me these two holiday books just days before Christmas. In 20 Big Trucks Before Christmas, two boys watch the holiday preparations in their town which require–you guessed it–twenty big trucks. A mishap hanging the star atop the tree inspires the donut truck driver to take the donut off his truck, decorate it with red and green lights, and use it to replace the star. When Santa arrives in a pickup, it's time for the celebration to begin!
We've seen Rockefeller the owl already this year in The Christmas Owl. This version of the story, by the Winter mother-and-son team, focuses on the wild owl: "The owl didn't have a name–and of course she didn't: She was a wild animal." Humans are necessary to help her when she's trapped in the tree destined for Rockefeller Center, but after her stay at the wildlife rehabilitation center, she is "back in the wild, back in the trees, somewhere out there under the stars." An author's note tells a bit more of the story. Both books are 32 pages and recommended for ages 4-8.
Pros: Here are two illustrators that really should get more recognition. Kurt Cyrus's lifelike pictures of machinery are always popular with kids, and Jeannette Winter, who is 82 years old and has written and illustrated dozens of books, has a beautiful folk-art style that's perfect for Rockefeller's story.
Cons: I wish I could have gotten these books a few weeks sooner so I could have shared them with kids before vacation.
December 24, 2021 at 05:45PM Janet Dawson